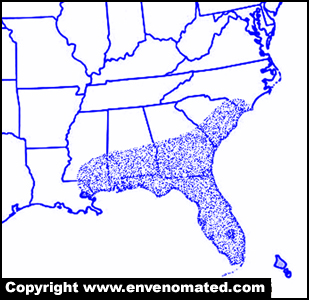 For a set of maps (in progress, not complete) with documented occurrences by county - look at
http://www.envenomated.com/rebuilding-the-range-map-for-c-adamanteus-r30.htm
Range
Eastern Diamondback Rattlesnakes are native to the Southeastern Coastal Plains. They can be found in Southern North Carolina, Eastern South Carolina, Southern Georgia, Florida, Southern Alabama, Southern Mississippi, and Eastern Louisiana.
According to Dean Ripa, only about a dozen individuals have been documented in North Carolina, and there has not been a diamondback found above the Santee Cooper River in South Carolina since 1980.
Less than five have been documented in Louisiana, and researchers are not sure whether the animals swam across the river that borders Mississippi, or whether they were released captive animals.
Range maps are not 100% accurate. Snakes are sometimes found outside their natural ranges. As an example, two cottonmouths were collected five years apart in a drainage creek six miles south of Boulder Colorado. (source usgs.gov)
---
Click on FRED the albino eastern diamondback rattlesnake for the next page in the site tour. :-)